Stage 42 Seating Chart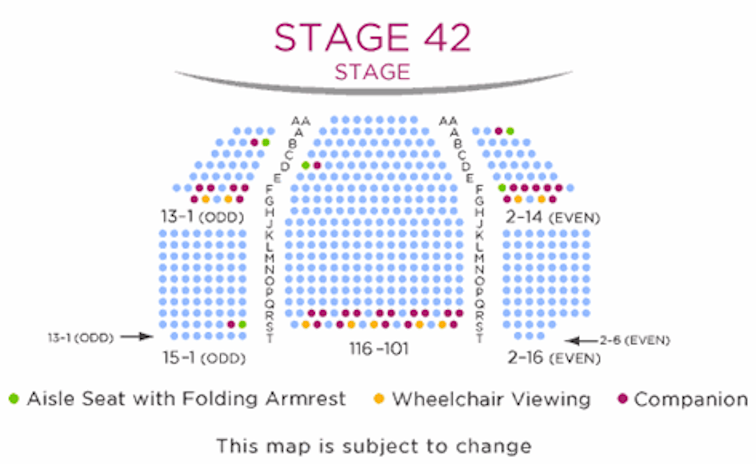 Stage 42 has plenty of room for seats with some of the best sightlines in the industry. Of the 499 available seats, 9 are wheelchair accessible and 5 are Aisle Transfer Arm seats. The following seating chart will give you all the details you need to choose the right seat for you.
Accessible Seating:
Orchestra: G3 | G1, F1-3; G7 | G9, F7-9; G4 | G2, F6-8; G8 | G10, F10-12, S102 | S101, R101-102; S104 | S105, R104-105; S108 | S107, R107-108; S110 | S111, R110-111; S114 | S113, R113, R113-114
Aisle Seat with Folding Armrest | Companion Locations:
Orchestra: A9 | A6; B1 | B3; D113 | D112; F2 | F4; S1 | S3
NOTE: The seating configuration may change depending on the type of event. Always check the individual event seating chart when selecting your tickets.
Reserve your desired seatsby purchasing your tickets todayt. Visit the Stage 42 schedule to see all upcoming events.
To view the ticket and refund policies please visit the ticket information page.