Stage 42 Information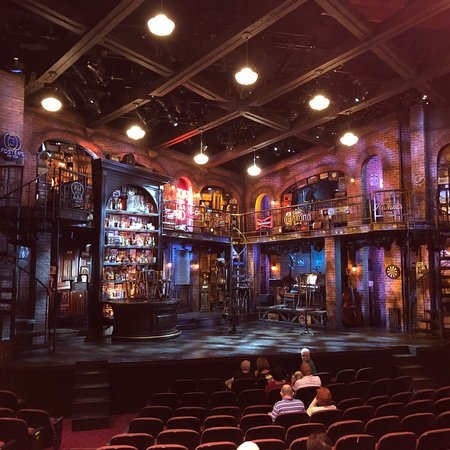 Stage 42 is an off-Broadway theatre on Theatre Row in New York City. The venue is currently about a half-mile away from Broadway and is part of the Shubert Organization's line of theaters and performance venues. When the building was built in 2002 with a capacity of 499 seats, it was called "The Little Shubert Theatre" but has since been renamed in 2015.
Even with the Shubert Organization's fame for owning high-profile theatres, Stage 42 was a special project since it was the first Off-Broadway venue owned by the group since Ethel Barrymore opened in 1928. Despite its smaller seating capacity, it still has the stage dimensions and orchestra pit size that is comparable to Broadway theatres with larger seating capacity. This means that smaller and more intimate audiences can enjoy the spectacle of larger and more elaborate productions that were usually reserved for larger venues. Many fans have even said that that they prefer seeing shows at Stage 42 because of its size and the intricate productions that it attracts.
But this large size and unique design may have proven to be an early hurdle for the venue.
Stage 42 is considered an expensive venue to mount shows, largely due to contracts with theatrical unions. This expense doesn't affect fans, but producers wanting to host their shows at the venue tend to want intimate audiences that can best appreciate their bigger projects, set designs, and costumes. It also means that musicals, plays, and shows that grace the stage are usually the best of the best because Stage 42 audiences deserve no less. This fame for choosing the best shows and events has led theater producers to theorize that if Stage 42 expanded to have one more seat, its brand new Tony eligibility would lead it to success. But this would also mean renegotiating contracts with theatrical unions which would only raise costs.
Instead, Stage 42 enjoys its place as one of the largest Off-broadway theatres in the world. It features an auditorium as well as stadium seating to provide some of the best sightlines in theatre while keeping the audience close to the stage and performance. The interior design blends the technical parts of the infrastructure with warm, rich colors as well as artwork from the Shubert Archive Collection to offer unparalleled levels of class. From the moment you arrive, you'll be greeted by a marquee that is designed to last while still giving guests the experience of visiting one of the great theatres from Broadway's illustrious past.
It all points to Stage 42 being the best Broadway experience that Off-Broadway theatres could ever provide.
Below are useful pages for further information on the Stage 42 Theatre:
Stage 42 Parking:
Read latest parking options and rules at the Stage 42.
Ticket Policies:
Read the latest industry leading ticket guarantee and ticket authenticity policies when purchasing from tickets via this website.
Stage 42 Seating Chart:
View the Stage 42 Theatre seating chart and read latest information on the various seating options.